Great success for the 3rd edition of the "Mondial du Monoski" in Le Pleynet 7 Laux by AFM.
Riders and manufacturers (SnowGunz/ Duret/ Aluflex/ Hattori-Hanzo) were present with optimal snow and sun conditions.
As guest stars were also present: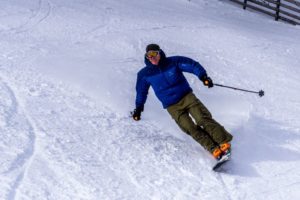 Xavier Cousseau – Speedmonoskiing World Record at 212,230 km/h
Romuald from Snowscootdoc
Bruce Rulfo – Three times downhill Snowscoot World Champion
Aurélien Fontenoy – Three times Mountain Bike Trials World Champion
Franck Petoud – inventor of the snowscoot manufacturer of Snowscoot InsaneToys
Xavier Duret – multiple winner of the "Derby de la Meije"
Freddy Quenet – Waterslide specialist with 145 m at the "Défi Folie"
Crapules – Freestyle Crew
A big thank you to all the international guests from all over the world: USA, UK, Scandinavia, Germany, Belgium, Austria, Switzerland… Thank you for coming!
The three days were dedicated to crew riding, material test and huge Monoski contests with the first "Wiz-Luge challenge".
The Mondial wouldn't be perfect without the two great Rock n' Roll concerts performed by AOC70.
Save the date for next year! We are waiting for you.